The one site that made us pull our hair out in the middle of the night. But in the end, it brought out the true flavour and feel that Rasta Cafe intends for its customers. Statutory warning – The site is quite heavy on slow internet connections. Visit it only on desktops or laptops.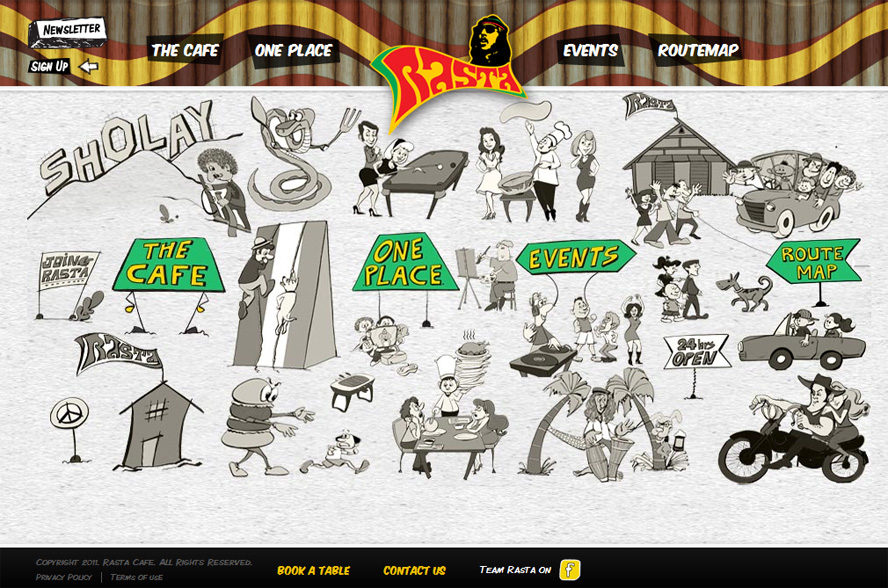 Going against traditional page load, we decided to transition the pages sideways. While this is a growing trend, most sites slide only from left to right. It was quite a challenge to have the rasta site begin from the middle.
Designed by Seshadri Venugopal, of Go Straight Take Right, while the initial plan was to make it a CMS powered website, the complexities that arose during the development made us choose a html based one instead. Way too many nitty gritties to be handled by a CMS.
Rasta Cafe is located on Mysore road about 35kms away from Bangalore, towards Mysore. Open 24 hours a day, its a favourite hangout for the young who want to have a good time late in to the night. No alcohol or drugs strictly. However hookah, which is banned in city limits, is the main attraction of the cafe.